Doing chores that aren't physically taxing can give seniors a sense of purpose and a daily routine. Seniors should be encouraged to do any chores that they can physically do or want to do. And, it also helps to create a bond with their elder care provider because they are doing the chores together. Elder care is a big help for seniors that are aging in place. Elder care can help seniors keep their homes clean, run errands, and do other tasks that are necessary.
The easiest household chores for seniors to do are usually:
Dusting
Dusting is a relatively simple chore that can be done with a lightweight duster or a microfiber cloth. Seniors can dust surfaces like countertops, shelves, and tabletops regularly to keep their home looking clean. Using a long-handled duster can help reach high places without the need for a step stool. Dusting should be done frequently and regularly to remove dust and allergens from the air.
Wiping Surfaces
Cleaning surfaces like kitchen counters and bathroom sinks is a straightforward task. Seniors can use mild cleaning solutions and a soft cloth to wipe away dirt and grime. It's essential to maintain cleanliness in these areas to prevent the buildup of germs. Seniors with Alzheimer's often like to wipe down kitchen counters and other surfaces.
Vacuuming
While vacuuming can be physically demanding, using a lightweight, cordless vacuum cleaner can make it easier for seniors. Focus on high-traffic areas, such as living rooms and hallways, and vacuum once or twice a week to keep the home free of dust and debris. Small hand held vacuums can be used to vacuum furniture and curtains or blinds.
Sweeping
For those who find vacuuming challenging, sweeping with a broom and dustpan can be an effective alternative. Sweeping is less physically demanding and can help keep floors clean.
Mopping
Mopping the kitchen and bathroom floors can be done with minimal effort. There are also mop systems with built-in wringers, making it easier for seniors to control the amount of water used and prevent slips. If seniors are mopping make sure they are wearing footwear with good tread so they don't slip.
Washing Dishes
Washing dishes by hand is a manageable chore that can be done in small batches. Using a dishwashing brush with a handle can make it easier to reach into deep pots and pans. Remove sharp knives or utensils from the dishpan to prevent accidental cuts.
Taking Out Trash
Emptying trash cans throughout the home is a simple task. Seniors can use smaller, lightweight trash bags to make disposal more manageable.
Organizing and Decluttering
Decluttering and organizing can be an ongoing task that doesn't require strenuous physical activity. Seniors can take their time going through belongings, deciding what to keep, donate, or discard.
Watering Plants
If seniors have indoor plants, watering them is a low-impact chore that can add a sense of purpose and enjoyment to their routine.
Managing Mail
Sorting and managing incoming mail is a task that can be done at a comfortable pace. Seniors can discard junk mail and organize important documents.
Folding Laundry
Folding laundry can be soothing for seniors with Alzheimer's. It's also a chore that seniors can do sitting down, so even seniors who have mobility challenges can help fold the laundry and put it in a laundry basket.
If you or an aging loved one is considering elder care in West Orange, NJ, please contact the caring staff at Adult Alternative Home Care today. 888-664-1769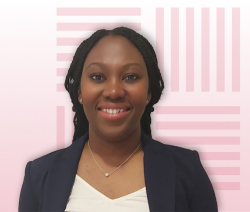 Latest posts by Lorraine Arkaifie, MSN, AGPCNP-BC
(see all)