Veterans Day originated as "Armistice Day" on Nov. 11, 1919, the first anniversary of the end of World War I. Congress passed a resolution in 1926 making it an annual observance, and it became a national holiday in 1938. On this day, the nation honors military veterans — living and dead — with parades and other observances across the country and a ceremony at the Tomb of the Unknown Soldier at Arlington National Cemetery in Virginia.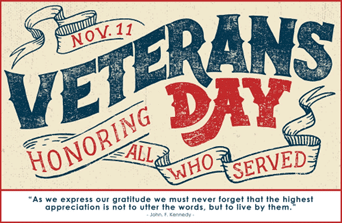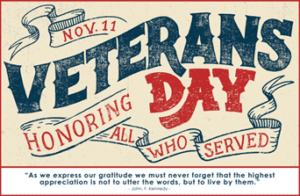 Today the term Veteran encompasses a wider range of people than it ever has in the past. People of different races, genders and sexual orientation, all of whom have or had one thing in common – the willingness to serve and defend our country as a member of the Armed Forces.
On the 11th hour, of the 11th day, of the 11th month of 1918 World War I ended. All fighting ceased when an armistice – a temporary cessation of hostilities – was declared between the Allied forces and the German Central Powers. Officially, the war ended seven months later with the signing of the Treaty of Versailles at the Palace of Versailles in Versailles, France on June 28, 1919.

The following November, President Woodrow Wilson proclaimed November 11, 1919 as the first commemoration of Armistice Day – the day that ended the war of all wars. Between 1920 and 1937 twenty-seven states made November 11th a legal holiday. An act approved May 13, 1938 made Armistice Day a legal federal holiday to honor the veterans of WWI.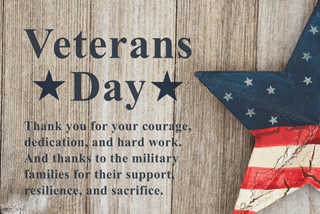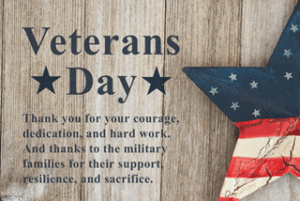 Sixteen years and two additional wars later, in 1954, the 83rd Congress amended the 1938 act that created the holiday and changed the word "Armistice" to "Veterans" to honor veterans of WWI, WWII, and the Korean War, as well as all those who fight for our country in the future. President Dwight D. Eisenhower signed the legislation on June 1, 1954.
To all our veterans, thank you for your sacrifices, your values and for everything you do to protect our country! Thank you for all your courage, strength and dedication.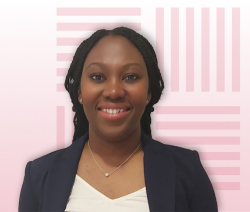 Latest posts by Lorraine Arkaifie, MSN, AGPCNP-BC
(see all)