In the middle stages of Alzheimer's, it becomes more and more challenging for a person to hold a spoon or fork. Using a knife isn't possible. Often, this is when you will turn to finger foods that provide the right nutrients without being too difficult to chew or swallow. What are some of the easiest finger foods to prepare? Here are just a few ideas, and how Alzheimer's home care can help your senior prepare and enjoy them.
Mini Quiches
Small quiches are easy to make and easy to chew. Mix eggs, cheese, and grated vegetables. Line a miniature muffin tin with rounds of whole wheat bread. Pour the egg mixture over that and bake them.
Cream Cheese Sandwiches
Mix some cream cheese with herbs and spices. Layer slices of whole wheat bread with the cream cheese mixture and wilted spinach. Cut that into fingers for quick sandwiches that offer calcium, leafy greens, and whole grains from the bread.
If your mom likes cucumber, you could also peel cucumbers and shave them into wide strips to add to the sandwich. The goal is to add as many vegetables to the sandwiches as you can without making it hard to chew.
Egg Salad
Boil eggs and mash them with some mayonnaise, spices, grated celery, grated carrots, and grated onion, if she likes onion. Spread that onto whole wheat or white wheat bread and cut into fingers. You can do the same with canned tuna.
Fish Sticks
The crunchy coating on store-bought fish sticks may be too scratchy for your mom, but you can make them yourself. Purchase your mom's favorite fish and slice the fish into fingers. Dip them in a mixture of buttermilk and egg before coating them in almond or oat flour.
Bake the fish sticks at 350 F until the fish is fully cooked. Usually, 15 to 20 minutes is all that's needed for cooking time. Serve them with a dip of plain yogurt that's mixed with lemon, dill, and black pepper.
Muffins
Muffins don't have to take a lot of time to make and they can pack a powerful punch of nutrition. Mix two cups of self-rising flour with a half-cup of unsweetened applesauce, one grated carrot, an egg, and a cup of chopped banana. Add just enough unsweetened vanilla almond milk to create a thick batter. You can serve them with whipped honey butter.
When your mom reaches the stage where chewing and swallowing are becoming more difficult, make sure she has the support of Alzheimer's care aides. You'll benefit from Alzheimer's care, too, as it's difficult to continue to care for your mom when she no longer recognizes you.
She's going to need help with toileting, bathing, ambulation, and medications. Make sure your mom has the support she needs by arranging Alzheimer's care services as soon as she reaches the middle stages.
If you or an aging loved one is considering Alzheimer's home care in Union, NJ, please contact the caring staff at Adult Alternative Home Care today. 888-664-1769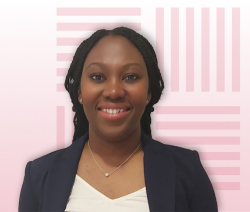 Latest posts by Lorraine Arkaifie, MSN, AGPCNP-BC
(see all)